Welcome to the
7th Newport (All Saints)
Scout Group  
Scouts, Cubs, Beavers & Parents/Carers,
we have decided to suspend our weekly group meetings because of the Coronavirus pandemic. None of our sections will meet this week and this Thursday's trip to Techniquest has also been postponed. We have no way of knowing when it will be safe and virus-free to come back together and we make this decision after much discussion knowing that your health and wellbeing, and that of your families, is our top concern.
There will be no Mothering Sunday parade service this Sunday. Please don't let a silly bug stop you from making a fuss of your mums, nans and aunties this Sunday. Also, our group Annual General Meeting scheduled for a couple of weeks' time is also postponed - which means you have extra time to earn some more badges.
Please look to our Facebook group page for any updates and news.
Subs and activity costs:
We will retain any monies paid in the hope that scheduled activities will take place. If definitely cancelled all will be refunded. Subs is a different matter since your monthly subscriptions finances the weekly activities we run as well as off-setting the annual admin/insurance costs and subsidise the big activities such as camps and trips. If we are suspending weekly meetings for any extended period we will discuss with parents/carers how much money will still need to be collected by us.
Planned Activities:
It is difficult to foresee how things will develop over the forthcoming months, so here is our current thinking...
Techniquest and also NinjaWarrior, 4th April have been postponed, but we will definitely be rescheduling these exciting activities. We will need cheering up when all this is over.
St. George's Day Parade, Sunday 26th April and Jamboree on the Trail, Saturday 9th May. Both outdoor events are still possible to run in some modified format but doubtful if the current situation escalates.
Spring camp at Plas Dolygaer 1-3 May and All Wales Scout Camp at Builth Wells, 12th-14th June are still possible but unlikely in the current situation. We will keep you informed just as long as you keep yourselves fit and well.
Beaver Funday at Woodhouse Park on Saturday 13th June has been cancelled. and all deposits  will be returned
Group camp in July, let's not get ahead of ourselves... but it will be brilliant, can't wait to go!!!
Finally...
please take good care of yourselves and your loved ones. Remember good hand washing and be very mindful of your elderly or vulnerable relatives, friends and neighbours. Be brave and make good use of your time. Missing you already and we'll see you again before you know it.
Leaders, 7th Newport (All Saints) Scout Group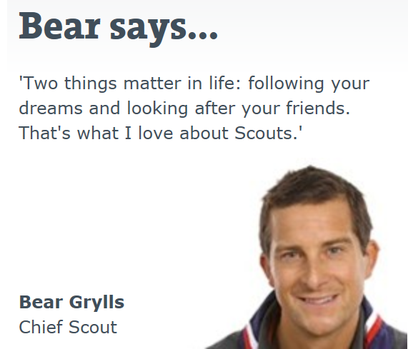 The Purpose of Scouting
The purpose of Scouting is to contribute to the development of young people in achieving their full physical, intellectual, social and spiritual potentials, as individuals, as responsible citizens and as members of their local, national and international communities.
Expect More
'Young people who have participated in a youth or sport club such as Scouting are less likely to drink or smoke, more likely to participate in physical activity, more likely to have a good relationship with other adults in their community, more likely to have parents who trust them and more likely to be engaged in their schooling' 
NfP Synergy Report: Typical Young People
Some of the images and textual items included in this website have been downloaded from other Scout Association websites and other internet sites.  Should you require your copyrighted image to be removed please contact us.
Any views and opinions expressed on this site are not necessarily those of the Scout Association.
Please read our privacy policy.
© 7th Newport (All Saints) Scouts Group, 2017